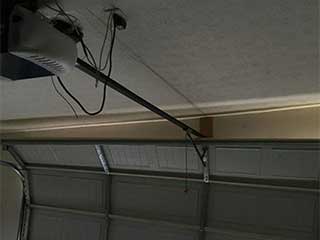 All too often, homeowners neglect to care for their garage doors until something goes wrong. Like any complex mechanical system, there are a host of reasons that can impact the functionality of your opener or any other part of your system. While you will likely need to call expert assistance, it always helps to have an idea of what caused the issue.
Rusted or Dirty Rollers Can Stick
Many people forget to perform routine lubrication maintenance on the rollers of their garage door. The end result can be rollers that no longer move properly. Similarly, when metal rollers begin to rust, they may not move as freely as you need them to. Proper professional maintenance can quickly resolve these issues, as our experts will closely inspect these components and replace them when the need arises.
Issues with the Hinges
There are two common issues that may plague your garage door hinges. Sometimes, just like the rollers that move along the track, the hinges can end up rusting, which will make it difficult for them to move when the door lifts or lowers along the track. Other times, small debris can end up wedged inside the hinges, effectively restricting their range of motion and hindering their functionality.
Springs Can Come Loose or Loose Tension
If your garage door won't open, close or move past a certain point, the issue may lie with the system's springs. Like any frequently used component, they may simply wear out over time. They can also get rusty, loose tension or detach from the door by accident. If that happens, your door could tilt, or get stuck, and trying to operate it will be extremely dangerous.
Damaged Tracks
Sometimes the reason your garage door gets stuck has something to do with its track, which facilitates the smoothness of the system's motion. Whether it's rust, an accumulation of dirt or various debris, or a dent in the tracks themselves, professional repairs or replacement are the best way to address this issue.
Whenever you find yourself in need, our Garage Door Repair Tempe experts are always available to be of assistance.