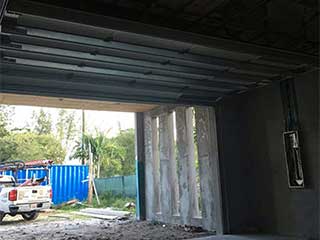 What Might Go Wrong?
It may not seem like it, but your garage door is a complicated and heavy piece of machinery. There are many parts at work to get it to rise and lower successfully, and if any of them is damaged, it can cause trouble. You may notice it slowing down, getting stuck, making a racket, or even reversing suddenly. The usual cause is simply wear and tear from daily use that grinds parts down over time, or even rust. While it might be tempting to simply deal with a faulty door, whatever the issue is can very easily worsen over time to the point that your door won't work at all.
We Can Repair The Problem!
Our experts got their knowledge from years of working on garage doors just like yours around the area, which means they've seen it all! Whatever is troubling your door, we'll find the root of it and get it fixed. Using the best tools and parts, we can either repair or replace whatever is needed. If it's the spring, no matter if it's torsion or extension, we can take care of it easily! Rollers or cables are no issue either, and we also can replace broken panels from accidents or storms. Should the opener be the trouble, whatever brand it is, our professionals can take care of its specific needs in no time.
Is It An Emergency?
We can't always plan things in advance, sometimes accidents happen. If a car or storm caused some damage, or you simply woke up to find that your garage door refuses to work, just give us a call! Our technicians will be out as soon as possible to find whatever is causing the problem and handle it for you. That way you can get back to your busy schedule fast!
Don't Wait Any Longer!
There's no reason for dealing with a frustrating garage door that slows you down, and gives you a headache! Just call Garage Door Repair Tempe now, and let us get it working smoothly again.
But wait, there's more! We also offer:
Part Replacement & Repair
Remote Opener Clicker Replacement
Torsion Spring Adjustment
Track Replacement & Repair