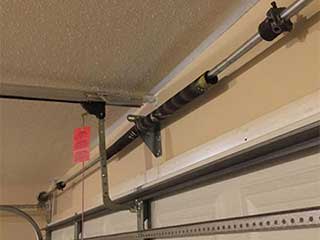 The springs that do all the heavy lifting in your garage door only have a limited lifespan, and once they reach the end of their lives they'll start to lose strength and stability. Many common garage door problems are caused by damaged, aging or corroded springs, and we recommend that homeowners regularly inspect their springs for any signs of wear and tear.
Common Issues and Problems
If your door won't close or open properly, or if it works very noisily or shakily, it's possible that your springs are in need of replacement or at the very least some proper lubrication. This is a crucial matter and should not be neglected.
Professional Replacement Services
It's essential that you let our professionals deal with your springs rather than attempting to do it yourself. These components are under an enormous amount of tension. If they aren't handled properly they can be very dangerous for anyone standing nearby them. We strongly advise that homeowners do not attempt to carry out repairs or replacement work without contacting us first.
Modern Upgrade Options
We think that investing in a new set of garage door springs is a smart way to plan for the future. Many people leave the original set in place when they move into a new house, which means that their springs can be a few decades old. Unsurprisingly, the older these components get, the less reliable they are. Their certainly not as corrosion-proof or as tough as their modern-day equivalents. Therefore, it's wise to invest in a new set of springs that will ensure that you get many years of use out of your door.
Contact Our Team Today
Our experts at Garage Door Repair Tempe can help you with deal with every type of spring-related problem you may experience.
You can also count on us for:
Garage Door Safety Inspections
Genie & Liftmaster Opener Repairs
Emergency Broken Spring Replacement
Broken Garage Door Track Repair